Dr. Martin Luther King, Jr. Exposed!!
---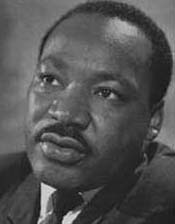 Martin Luther King, Jr. (1929 - 1968.)
"And no marvel; for Satan himself is transformed into an angel of light. Therefore it is no great thing if his ministers also be transformed as the ministers of righteousness; whose end shall be according to their works (II Cor. 11:14)."
"Dr" Martin Luther KING was taken to the mountaintop and promised ALL the kingdoms of the Rockefeller world -- money, fame, popularity, the love of the world etc., etc., if he would preach the ecumenical "gospel" of Rome. He was double-crossed and assassinated instead. He was not the first black person to be bribed and double-crossed by the Syndicate.
Dr. Martin Luther KING was named after the GREAT Reformer Martin Luther who ended the Babylonian Captivity of the Church. While only a youth of 20, he was already a professor at the University of Wittenberg.
The first thing that the Great Reformer Martin Luther did on finding Christ was to give up the Romish title "Dr." He wanted to be known simply as a Preacher of the Gospel. The Bible says that men of high degree are a LIE . . . and men of low degree are vanity (PS 62:9).
Martin Luther was the apostle of non-violence - not Martin Luther KING or Gandhi. On several occasions, Martin Luther refused to take up arms to defend the Reformation. When the Imperialists united to exterminate the Reformation, Martin Luther urged non-violence:
"They (Reformed Christians) resolved to anticipate their opponents by striking the first blow. All Germany was in commotion. It was now the turn of the Popish princes to tremble. The Reformers were flying to arms, and before their own preparations could be finished, they would be assailed by an overwhelming host, set on by the startling rumours of the savage plot formed to exterminate them. The Reformation was on the point of being dragged into the battlefield. Luther shuddered when he saw what was about to happen. He stood up manfully before the two chiefs who were hurrying the movement into this fatal path, and though he believed in the reality of the plot, despite the indignant denial of Duke George and the Popish princes, he charged the lector and landgrave not to strike the first blow, but to wait till they had been attacked. "There is strife enough uninvited," said he, "and it cannot be well to paint the devil over the door, or ask him to be godfather. Battle never wins much, but always loses much, and hazards all; meekness loses nothing, hazards little, and wins all. "(History of Protestantism, vol. I, p. 545)."

The Rockefeller Syndicate and King.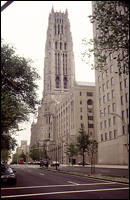 Riverside "Church" in New York City was founded by the Rockefeller Syndicate.
Martin Luther KING spoke at this "church" many times. It was founded by Rockefeller Junior as a shrine of ecumenical whoredom -- a sort of U.N. of world religions.
Martin Luther would NEVER be invited to speak at Riverside "church".
If Martin Luther left Heaven and came down to earth, he would NEVER be invited to speak at Riverside "church" because it was founded by the Counter-Reformation Rothschild/Rockefeller Banking cartel.
Martin Luther preached that JESUS is the ONLY WAY to Heaven. Riverside "church" believes that there are many ways. Who is right? I prefer to believe God before Martin Luther KING or Rockefeller any day!!
Millions of blacks in Africa are dying right now because of the suppression of the gold price and because of Rockefeller Syndicate vaccination. Was it ONLY American blacks that King cared about?
Martin Luther KING meets the Rockefellers!!
If Rockefeller cared about blacks or civil rights he would have joined the Union army when President Lincoln issued an appeal for volunteers. As it was, he refused to give his younger brother a measly $75.00 to buy a uniform in order to enlist. Here is a Special Report from the Rockefeller owned New York Times:
Special from the New York Times, March 1, 1964, p. 90
Dr. King, at Rockefeller Estate, Addresses Urban League Rally
POCONTICO HILLS, N.Y., Feb, 29—The Rockefeller Estate was the setting today of a luncheon meeting designed to galvanize civic-minded Westchester residents into support of a $50.000 fund raising campaign on behalf of the Urban League of Westchester.
The Rev. Martin Luther King Jr., president of the Southern Christian Leadership Conference warned that if the public accommodations and fair employment provisions of the Civil Rights Bill were eliminated "it would be better to have no civil rights at all" The Bill passed by the House is now before the Senate.
Dr. King criticized Senator Barry Goldwater's stand on states rights, quoting him as having said: "leave it to the states.""The states should have rights," the Negro leader said, but no state has the right to do wrong".
Dr. King addressed a racially mixed audience of 90 guests, many of them in upper economic brackets, in the Rockefeller Playhouse. He thanked the Rockefeller family for its support of "human rights and human dignity."
Rodman C. Rockefeller, a son of Governor Rockefeller and a member of the board of the Westchester Urban League, was luncheon host. He deplored "the moral significance of giving to a tax-slashing bill precedence over the passage of a human rights bill."
County residents present included Garry Moore, Jackie Robinson, and Representative Ogden R. Reid.
Among new programs for which the Westchester league seeks funds are:
Hiring an associate director at $6,500 to expand and develop job and educational incentives for Negro youths.

Matching a $3.000 grant to finance the seeking out of Negro families willing to move into all-white neighborhoods under the protection of the Metcalf-Baker Law.

Hiring a professional administrator at $5.000 to direct the league's teacher program. Buying a $4.000 mobile office unit to permit decentralization of the league's White Plains headquarters. Participating in the National Urban League's "Skills Bank" at $2,000.

Implementing the Westchester league's "Teams- in-Industry" program for Negro youths, at $6.000.

Establishing a scholarship fund for Negro youths at $5,000.
---
The Great Dr. Martin Luther was the driving force behind the King James Bible. That Bible is banned in the Public Schools of America . . . while a national holiday is celebrated for his namesake in January. . . .Why can't Martin Luther's birthday on November 10, be a national holiday too?
As a "Baptist Minister" King would be very familiar with the Bible and especially the following verses:
"Know ye not that your bodies are the members of Christ? shall I then take the members of Christ, and make them the members of an harlot? God forbid. What? know ye not that he which is joined to an harlot is one body? for two saith he, shall be one flesh (I Cor. 6:15-16)."
And again:
"Be ye not unequally yoked together with unbelievers: for what fellowship hath righteousness with unrighteousness? and what communion hath light with darkness? And what concord hath Christ with Belial? or what part hath he that believeth with an infidel? And what agreement hath the temple of God with idols? for ye are the temple of the living God; as God hath said, I will dwell in them, and walk in them; and I will be their God, and they shall be my people.

Wherefore come out from among them, and be ye separate, saith the Lord, and touch not the unclean thing; and I will receive you, And I will be a Father unto you, and ye shall be my sons and daughters, saith the Lord Almighty. (II Cor, 6:14-18)."
And again:
"And I heard another voice from heaven, saying, Come out of her, my people, that ye be not partakers of her sins, and that ye receive not of her plagues (Rev. 18:3)."
These 3 verses alone show the entire ecumenical movement to be a fake and a sham!!
---
It is amazing that King preached unity with Rome - his deadly enemy....During WW II, when the Allies liberated Rome, Pope Pius XII gave orders to the American Commander that no black soldiers were to garrison the City of Rome. Here is a quote from Hitler's Pope p. 319:
The Cardinal Secretary of State sent for me today to say the Pope hoped that no Allied coloured troops would be among the small number that might be garrisoned at Rome after the occupation. He hastened to add that the Holy See did not draw the colour line but it was hoped that it would be found possible to meet the request.
The fundamental doctrine of the Christian Faith is the Resurrection of Christ from the dead. Martin Luther KING denied that basic doctrine . . . the very belief that Martin Luther was ready to be burned at the stake to defend.
---
"I Have A Dream"
by Martin Luther King, Jr.
---
Delivered on the steps at the Lincoln Memorial in Washington D.C. on August 28, 1963.
Five score years ago, a great American, in whose symbolic shadow we stand signed the Emancipation Proclamation. This momentous decree came as a great beacon light of hope to millions of Negro slaves who had been seared in the flames of withering injustice. It came as a joyous daybreak to end the long night of captivity. But one hundred years later, we must face the tragic fact that the Negro is still not free. One hundred years later, the life of the Negro is still sadly crippled by the manacles of segregation and the chains of discrimination. One hundred years later, the Negro lives on a lonely island of poverty in the midst of a vast ocean of material prosperity. One hundred years later, the Negro is still languishing in the corners of American society and finds himself an exile in his own land.

So we have come here today to dramatize an appalling condition. In a sense we have come to our nation's capital to cash a check. When the architects of our republic wrote the magnificent words of the Constitution and the Declaration of Independence, they were signing a promissory note to which every American was to fall heir.

This note was a promise that all men would be guaranteed the inalienable rights of life, liberty, and the pursuit of happiness. It is obvious today that America has defaulted on this promissory note insofar as her citizens of color are concerned. Instead of honoring this sacred obligation, America has given the Negro people a bad check which has come back marked "insufficient funds." But we refuse to believe that the bank of justice is bankrupt. We refuse to believe that there are insufficient funds in the great vaults of opportunity of this nation.
So we have come to cash this check -- a check that will give us upon demand the riches of freedom and the security of justice. We have also come to this hallowed spot to remind America of the fierce urgency of now. This is no time to engage in the luxury of cooling off or to take the tranquilizing drug of gradualism. Now is the time to rise from the dark and desolate valley of segregation to the sunlit path of racial justice. Now is the time to open the doors of opportunity to all of God's children. Now is the time to lift our nation from the quicksand of racial injustice to the solid rock of brotherhood.
It would be fatal for the nation to overlook the urgency of the moment and to underestimate the determination of the Negro. This sweltering summer of the Negro's legitimate discontent will not pass until there is an invigorating autumn of freedom and equality. Nineteen sixty-three is not an end, but a beginning. Those who hope that the Negro needed to blow off steam and will now be content will have a rude awakening if the nation returns to business as usual. There will be neither rest nor tranquility in America until the Negro is granted his citizenship rights.
The whirlwinds of revolt will continue to shake the foundations of our nation until the bright day of justice emerges. But there is something that I must say to my people who stand on the warm threshold which leads into the palace of justice. In the process of gaining our rightful place we must not be guilty of wrongful deeds. Let us not seek to satisfy our thirst for freedom by drinking from the cup of bitterness and hatred.

We must forever conduct our struggle on the high plane of dignity and discipline. we must not allow our creative protest to degenerate into physical violence. Again and again we must rise to the majestic heights of meeting physical force with soul force. The marvelous new militancy which has engulfed the Negro community must not lead us to distrust of all white people, for many of our white brothers, as evidenced by their presence here today, have come to realize that their destiny is tied up with our destiny and their freedom is inextricably bound to our freedom. We cannot walk alone. And as we walk, we must make the pledge that we shall march ahead. We cannot turn back. There are those who are asking the devotees of civil rights, "When will you be satisfied?" we can never be satisfied as long as our bodies, heavy with the fatigue of travel, cannot gain lodging in the motels of the highways and the hotels of the cities. We cannot be satisfied as long as the Negro's basic mobility is from a smaller ghetto to a larger one. We can never be satisfied as long as a Negro in Mississippi cannot vote and a Negro in New York believes he has nothing for which to vote. No, no, we are not satisfied, and we will not be satisfied until justice rolls down like waters and righteousness like a mighty stream.

I am not unmindful that some of you have come here out of great trials and tribulations. Some of you have come fresh from narrow cells. Some of you have come from areas where your quest for freedom left you battered by the storms of persecution and staggered by the winds of police brutality. You have been the veterans of creative suffering. Continue to work with the faith that unearned suffering is redemptive. Go back to Mississippi, go back to Alabama, go back to Georgia, go back to Louisiana, go back to the slums and ghettos of our northern cities, knowing that somehow this situation can and will be changed. Let us not wallow in the valley of despair. I say to you today, my friends, that in spite of the difficulties and frustrations of the moment, I still have a dream. It is a dream deeply rooted in the American dream.
I have a dream that one day this nation will rise up and live out the true meaning of its creed: "We hold these truths to be self-evident: that all men are created equal." I have a dream that one day on the red hills of Georgia the sons of former slaves and the sons of former slave owners will be able to sit down together at a table of brotherhood. I have a dream that one day even the state of Mississippi, a desert state, sweltering with the heat of injustice and oppression, will be transformed into an oasis of freedom and justice. I have a dream that my four children will one day live in a nation where they will not be judged by the color of their skin but by the content of their character. I have a dream today.
I have a dream that one day the state of Alabama, whose governor's lips are presently dripping with the words of interposition and nullification, will be transformed into a situation where little black boys and black girls will be able to join hands with little white boys and white girls and walk together as sisters and brothers. I have a dream today. I have a dream that one day every valley shall be exalted, every hill and mountain shall be made low, the rough places will be made plain, and the crooked places will be made straight, and the glory of the Lord shall be revealed, and all flesh shall see it together. This is our hope. This is the faith with which I return to the South. With this faith we will be able to hew out of the mountain of despair a stone of hope. With this faith we will be able to transform the jangling discords of our nation into a beautiful symphony of brotherhood. With this faith we will be able to work together, to pray together, to struggle together, to go to jail together, to stand up for freedom together, knowing that we will be free one day.
This will be the day when all of God's children will be able to sing with a new meaning, "My country, 'tis of thee, sweet land of liberty, of thee I sing. Land where my fathers died, land of the pilgrim's pride, from every mountainside, let freedom ring." And if America is to be a great nation, this must become true. So let freedom ring from the prodigious hilltops of New Hampshire. Let freedom ring from the mighty mountains of New York. Let freedom ring from the heightening Alleghenies of Pennsylvania! Let freedom ring from the snowcapped Rockies of Colorado! Let freedom ring from the curvaceous peaks of California! But not only that; let freedom ring from Stone Mountain of Georgia! Let freedom ring from Lookout Mountain of Tennessee! Let freedom ring from every hill and every molehill of Mississippi. From every mountainside, let freedom ring.

When we let freedom ring, when we let it ring from every village and every hamlet, from every state and every city, we will be able to speed up that day when all of God's children, black men and white men, Jews and Gentiles, Protestants and Catholics, will be able to join hands and sing in the words of the old Negro spiritual, "Free at last! free at last! thank God Almighty, we are free at last!"
---
Vital Links
Rome honors Martin Luther King
Here is a Great Link that exposes the real Dr. Martin Luther King.
---
Editor's Notes
Only those set free by the Blood of Jesus Christ can ever know what real freedom means. The ONLY organization in this world where there is TRUE equality is the church of Jesus Christ. Paul the Apostle said this 2000 years ago:
"There is neither Jew nor Greek, there is neither bond nor free, there is neither male nor female: for ye are ALL ONE in Christ Jesus" (Galatians 3:28).
If only Martin Martin King exposed Rome like his great Namesake, we would not have a Papal Nuncio in Wash. D.C.
---
Reference
Wylie, Rev. J. A., History of Protestantism, in 2 volumes, Mourne Missionary Trust, Ireland, 1985.
---