Such is the extreme secrecy of the Rockefeller Syndicate, that almost a century later, most Americans are still not aware that their country has been hijacked by Standard Oil....The Grand Duke did not know— or could not tell— that his own country was also hijacked by the Rock Mob!!
| | | |
| --- | --- | --- |
| Grand Duke Alexander was commander-in-chief of the Russian Air Force during WW I. | | Grand Duke Alexander during his exile in New York in 1932. |
Grand Duke Alexander Mikhailovitch (1866-1934 ).
Grand Duke Alexander was born on April 1, 1866 in Tiflis (now Tbilisi), and died in 1934 in the United States. He loved everything American and as a youth he longed to run away to the United States. He despised the empty rituals of the Greek Orthodox "church" and wanted to remake his country in the image of the U.S.A. He visited this country in 1893 and again in 1913. He moved to the U.S. in 1928 and began a career as an author of several books on Russian history.
| | | |
| --- | --- | --- |
| Emperor Alexander II of Russia (1818-1881). | | Russian ship Osliaba arrived in Alexandria, Virginia, in 1863. |
Grand Duke Alexander was the nephew of Emperor Alexander II. This was the Emperor that freed the serfs in 1861. He sent the Russian navy to New York, Virginia and San Francisco in 1863 and their presence was a warning to France and Great Britain to stay out of the conflict. In 1867, he sold Alaska to the U.S. for the measly sum of $7.2 million dollars. For freeing the serfs and saving the American Union, Emperor Alexander was killed by a Jesuit assassin in 1881.
| | | |
| --- | --- | --- |
| Czar Nicholas II (1868-1918) was the last Russian Emperor. | Grand Duke Alexander and his wife Xenia during the war. | Grand Duchess Xenia, sister of the Emperor and wife of Grand Duke Alexander. |
In 1918, Czar Nicholas II and his entire family were assassinated by Jesuits disguised as Soviets or Bolsheviks. Even though he was related to most of the crowned heads of Europe, none of them came to his aid. One of these Rockefeller Bolsheviks was named Joseph Stalin who later became dictator of Russia.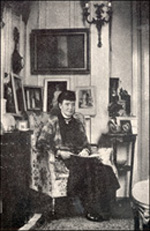 The Dowager-Empress Marie of Russia, in exile in Denmark in 1924.
Empress Marie was the widow of Emperor Alexander III and mother-in-law of Duke Alexander. Emperor Nicholas was sent to Siberia and the rest of the Romanoffs were held captive by the "Soviets" at Sebastopol. They confiscated Empress Marie's precious Bible because it was a counter-revolutionary book.
The Bible is an anti-revolutionary book according to the Bolsheviks.
Since the Glorious Reformation, the Czars of Russia have tried to enlighten their people by making the Word of God available to all their subjects. Their main opposition came from the Greek Orthodox "church" founded by Emperor Constantine.
Comrade Khrushchev meets the Rockefellers
Khrushchev meets his Rockefeller master!!
Gov. Nelson Rockefeller visits Khrushchev's Quarters at the Waldorf Astoria Tower; and cordially and comradely greets him. False headlines say that they met "for the first time" and "as total strangers". Khrushchev boasts that he receives secret codes, money and all "secret" reports from Rockefeller dominated CIA Quislings.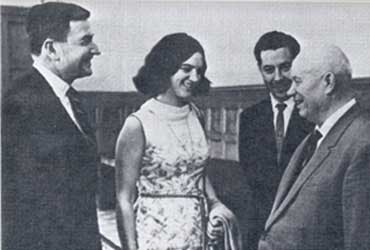 David Rockefeller accepts Khrushchev's urgent invitation to visit him at the Kremlin.
David Rockefeller held a conference in Leningrad of his Bilderberger "Dartmouth group" to discuss politics and stimulate Communist Russo-Chinese business for the branch of his Chase Manhattan Bank he had opened six months earlier, in Hong Kong, for the specific purpose of trading with the Communists. At the end of the two weeks conference, in mid August, 1964, Khrushchev phoned Rockefeller and urgently requested him to come to Moscow and discuss his decisions at the Kremlin. Rockefeller agreed to do so. He was entertained, with his daughter, Neva, at the Kremlin. But, shortly thereafter, Khrushchev was "fired" because his controversy with Mao Tse Tung interfered with the Soviet-Communist China trade from which Rockefellers sought to profit.
Rockefeller HATED Unions!!
Rockefeller HATED Unions - especially the American UNION and the Soviet Union....Unions prevent war and keep the peace. The more countries you have the more wars you are going to have. The Rockefeller Syndicate HATES peace because they cannot make money by supplying arms to both sides. The Russian Premier of the "workers paradise" probably didn't know that Rockefeller Junior had about 40 striking mine workers killed in Colorado. Most of those killed were poor Roman Catholic emigrants from Italy and Ireland.
Rockefeller massacred striking mine workers in Colorado.
---
Editor's Note
The Imperialists have always tried to promote conflict between Russia and America in order to instigate conflicts between the two great nations. This was the object of World War I and II -- to get America and Russia into a suicidal Cold War and reign over the ruins of both.
---
Links
A brief biography of Duke Alexander.
---
References
Alexander, Grand Duke of Russia, Once a Grand Duke, Farrar & Rinehart, Inc., New York, 1932.
Duke Alexander wrote many books. You can peruse them at......www.abebooks.com
Josephson, Emanuel M., The "Federal" Reserve Conspiracy and Rockefeller: Their Gold Corner, Chedney Press, New York, 1968.
Sinclair, Upton, King Coal, Bantam Books, New York, 1917. (This book is about the horrible massacre of striking mine workers in Colorado called The Ludlow Massacre).