It's Official - Mass Murderer is "Blessed"
---
Croatia, Oct. 3, 1998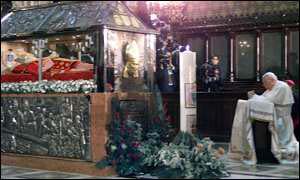 Pope John Paul II beatified Cardinal Aloysius Stepinac at a huge open-air service at the shrine of Marija Bistrica, the most important place of pilgrimage for Roman Catholics in Croatia. This is the final step to making him a saint in the Roman Catholic Institution.
During World War II the Independent State of Croatia was to be 100% Roman Catholic. Anybody not conforming was to be totally liquidated. The conservative number of Serbs killed was around 700.000, but the Serbian Orthodox Church puts the number at a million and a half!!
Mrs. Roosevelt, the wife of the U.S. President said that this Holocaust was:
One of the worst, if not the worst crimes of the war.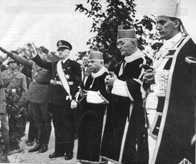 Zagreb Archbishop Aloysius Stepinac (right), at an official Croatian ceremony in 1941.
---
Editor's note
How can anybody fail to see that the Papacy is that Man of Sin and Son of Perdition predicted by the Lord Jesus Christ and his holy Apostles.
---