Life and Times of Martin Luther
---
Birth-place of Martin Luther - (the third house on right-hand side).
The great Dr. Luther was born in the town of Eisleben, Germany, on November 10, 1483. His parents were John and Margaret Luther. Inside the house is this inscription:
In this house Dr. Martin Luther was born, the 10th of November 1483. God's Word is Luther's lore; which abides for ever more.
Luther grew up in this house in Eisenach, Germany.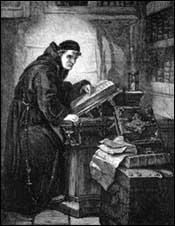 Luther at age 22. He first saw a Bible while a monk in the Augustinian Monastery at Erfurt.
Luther had a near miss with lightening and almost got killed. That is why he decided to become a monk. By forsaking the world and hiding himself in a monastery the monk believed that he was serving God. He soon learned that the thick walls do not keep out the lusts which burn within.
Luther was appointed Professor of Theology at this Augustinain Monastery at Wittenberg, in the fall of 1508.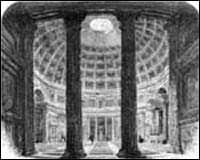 The Pantheon at Rome.
Luther made a visit to the unholy city in 1510. While climbing Pilate's Staircase on his knees to do penance for his sins he heard a voice like thunder say:
"The just shall live by faith"
At that time the new Cathedral of St. Peter was under construction and money was desperately needed. This is what started the Indulgences scandal. Luther said later about his visit to Rome:
"I myself" he declares, "have heard people say openly in the streets of Rome, 'If there be a hell, Rome is built on it'"

City of Worms.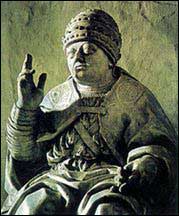 Pope Leo X.
Pope Leo X., roared at Luther and ordered him to report to Rome within 60 days to recant or face a fiery death.
Site of the famous Diet of Worms held in 1521. Here Luther defended his writings before the Emperor Charles and all the dignitaries of the Empire. Here he made his timeless reply when asked if he would recant his writings:
I cannot submit my faith either to the Pope or to the Councils, because it is clear as day they have frequently erred and contradicted each other. Unless therefore, I am convinced by the testimony of Scripture . . . I can and will not retract . . . Here I stand . . . I can do no other. So help me God, Amen!!
During Luther's stay at Worms, the Spanish soldiers of Emperor Charles made no small commotion. They were especially interested in finding and destroying all copies of Luther's book: The Babylonian Captivity of the Church!!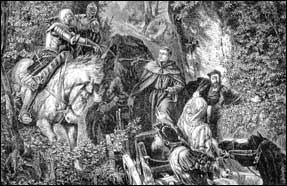 Luther carried off to Wartburg.
Luther was put under the Ban of the Empire. His friends, fearing for his safety, kidnap him and carry him off to the Wartburg Castle.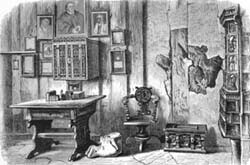 Luther's study at the Wartburg.
This is where the famous incident with the inkwell took place. Luther had just begun his memorable translation of the Bible into German. Satan saw the handwriting on the wall and was furious. His demons gave him no rest day or night. . . . At last Luther took his inkwell and threw it at the devil! The mark is still to be soon on the wall. God's Word translated into German gave the devil a fatal wound.

Luther's study at Wittenberg
In 1522, Luther returned to Wittenberg. This is where he completed his extraordinary translation of the Bible. The King James Bible is 75 per cent the work of English Reformer William Tyndale. Tyndale visited Luther here and Tyndale copied a lot from Luther. Even the notes on the margin of Tyndale's Bible are exactly the same as Luther's translation. Luther produced a prodigious amount of writings.

House where Luther died in Eisleben.
Luther homegoing was on the 17th of February, 1546. These are his last words:
Standing over Luther's tomb, you recall the story of his death at Eisleben. He had arrived there on the 28th of January, 1546, and although very unwell, he took part in the conferences which ensued up to the 17th of February. He also preached four times, and revised the ecclesiastical regulations for the territory of Mansfeld. On the 17th he was so ill that the Counts entreated him not to quit his house. At supper, on the same day, he spoke a great deal about his approaching death; and some one having asked him whether we should recognise one another in the next world, he said he thought we should. "I feel very weak," he exclaimed, "and my pains are worse than ever. If I could manage to sleep for half an hour, I think it would do me good." He did fall asleep, and remained in gentle slumber for an hour and a half. On awaking about eleven he asked, "What! are you still there? Will you not go and rest yourselves?" On their replying that they would remain, he began to cry with fervour, "'Into Thy hands I commend my spirit: Thou hast redeemed me, O Lord God of truth' Pray, all of you, dear friends, for the Gospel of our Lord; pray that its reign may extend, for the Council of Trent and the Pope menace it round about." He then slumbered about an hour.

When he awoke, he remarked, "I feel very ill. I think I shall remain here at Eisleben, here—where I was born." He walked almost the room, and then lay down, and had a number of clothes and cushions placed over him to produce perspiration; but they had not the desired effect. "O my Father!" he went on to pray, "Thou, the God of our Lord Jesus Christ; Thou, the source of all consolation, I thank Thee for having revealed unto me Thy well-beloved Son, in whom I believe; whom I have preached and acknowledged, and made known; whom I have loved and celebrated, and whom the Pope and the impious persecute. I commend my soul to Thee, O my Lord Jesus Christ I am about to quit this terrestrial body, I am about to be removed from this life; but I know that I shall abide eternally with Thee. 'Into thy hands I commend my spirit: Thou hast redeemed me, O Lord God of truth.'"His eyes closed, and he fell back in a swoon. When he revived, Jonas said to him, "Reverend father, do you die firm in the faith you have taught?" He opened his eyes, looked fixedly, and replied, "Yes." Soon after, those nearest saw him grow paler and paler; he became cold; his breathing seemed more and more faint; at length, heaving one deep sigh, Martin Luther expired.
---
Battle Hymn of the Reformation.
---
Reference.
Homes and Haunts of Luther, John Stoughton, D.D., London, 1883.
---