---
General from 1887 to 1892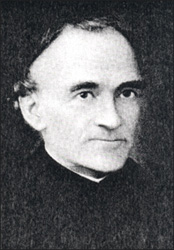 ,
He was born in the small town of Berisal in Switzerland not far from the northern border of Italy in the Vallais region where the Inn River is still a rushing mountain stream. He was a student at the Jesuit College in Brig. It would not be too far fetched to surmise that Anderledy, as a boy, had heard the successful preaching of Jan Roothaan, who worked up and down that same valley and from that contact, perhaps, received the grace of his vocation.
So, Anderledy entered the Society on October 5, 1858 and because of delicate health and political reasons was sent to the Jesuit Theologate in the Missouri Province of the U.S. After ordination he was then sent to work for a time among the American Indians at Green Bay, Wisconsin, where the Jesuits had established a mission.
After a short time he returned to Germany and became an outstanding preacher of the popular parish missions as Roothaan had done in Anderledy's native valley in Switzerland. Successively, he became Rector, Provincial and, finally, German Assistant in 1870. In 1883 he was appointed by Father Beckx as his Vicar General with the right of succession. With the death of Beckx, Anderledy took over the governance of the Society. He was 64 years old when he succeeded Beckx and was General for only four years and ten months from the death of Beckx until his own death on January 18, 1892.
During his generalate he promoted by letter solid formation of his subjects, the teaching of St. Thomas and gave impulse to literary and scientific efforts. As a close personal friend of Leo XIII he was able to obtain for the Society more of the former privileges the Society had lost during the suppression. Though his health was not strong, he accomplished much in a short time by his strong will.
His death occurred at Fiesole and he was interred in the church of Villa San Girolamo, because the Fathers were afraid that a public display at Anderledy's funeral, if it were held in Rome, would cause too much disturbance.
Years later the Jesuit Provincial of the Florence area decided to have one tomb for all the Jesuits who had died in the Florence Province. A burial plot was purchased in the Florence Municipal Cemetery and the bones of the Jesuits were brought together. Anderledy's remains are there, listed with all the others, with the sole distinction of "Praep. Gen." following his name.
---