---
General from 1652 to 1664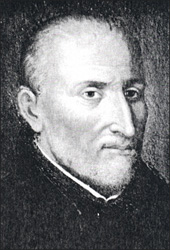 He was born in Coslar a small town in the Lower Rhine region of Germany on May 1, 1584. He entered the Society on April 3, 1604 and after ordination became professor of Philosophy at Cologne. Then the picture began to emerge as he became first Provincial of Germany and then German Assistant.
The sudden death of Gottifredi caused such consternation that the Delegates of the 10th Congregation were hard put to find a quick successor. They immediately set to work. Another vote was taken in nine days on March 17, 1652 and the delegates elected Father Goswin Nickel a 70-year-old German by 55 votes out of 77. The Congregation was concluded on March 20 on schedule.
During his tenure he was responsible for the founding of missions in the far-flung reaches of the world. He had to encourage and yet moderate his Jesuits in the battle that was raging against Jansenism in France and the Low Countries. After Queen Christina had abdicated her throne in Sweden, had become a Catholic and moved to Rome, she deigned to pay a visit to the Jesuit General.
Because of his infirmities he asked for a Vicar General to assist him and Father John Paul Oliva was appointed to that position on June 7, 1661.Oliva was the right hand of Nickel until at 80 years of age Nickel succumbed to those infirmities and died on July 31, 1664, having been General for twelve years.
His body clothed in priestly vestments was taken to the crypt of the Gesú and placed with those of his predecessors.
---