Diana of the Ephesians
---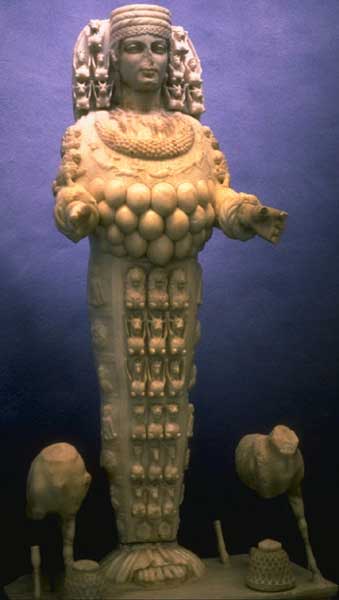 Diana of the Ephesians with her menagerie and crescent moon necklace.
Diana was known as the goddess of the hunt and the moon goddess. Ephesus was the image making capital of the world and who knows how many of these images were produced.
She was the main competition to the Son of God or JEHOVAH in the Old Testament.
This huntress of souls did have her beneficent side. She was the nourishing mother whose many breast were supposed to supply the whole world with milk. Satan always has attractive bait to snare his victims.
"And when the townclerk had appeased the people, he said, Ye men of Ephesus, what man is there that knoweth not how that the city of the Ephesians is a worshipper of the great goddess Diana, and of the image which fell down from Jupiter?" (Acts 19:35).